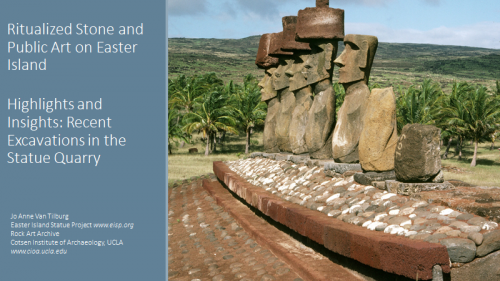 UCLA Cotsen Institute of Archaeology
April 9, 2021
Ritualized Stone and Public Art on Easter Island: Highlights and Insights of Recent Excavations in the Statue Quarry – Jo Anne Van Tilburg
Watch the recording on YouTube: https://youtu.be/vFc6MASfFNA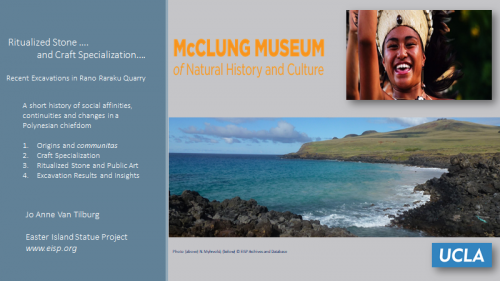 University of Tennessee McClung Museum
February 4, 2021
"Ritualized Stone and Craft Specialization: Recent Excavation in Easter Island's Statue Quarry" presented by Dr. Jo Anne Van Tilburg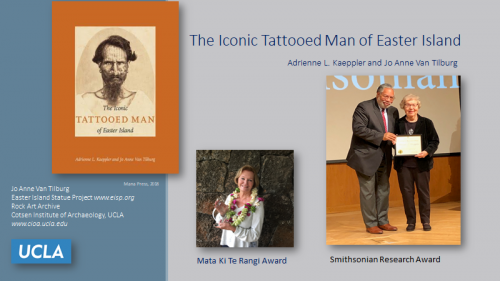 Westwood Women's Bruin Club
March 18, 2021
"The Iconic Tattooed Man of Easter Island"
Become a Friend of EISP!
EISP Foundation is a 501 (3) c entity.
Easter Island Statue Preservation Foundation
225 Arizona Ave Suite 500
Santa Monica, CA 90401
 Voice 1 310 395-6502
FAX 1 301 456-8604
www.eisp.org
Dear Friend(s),
This letter is written in grateful acknowledgement of your generous donation to the Easter Island Statue Preservation Foundation today.  These funds are essential and very welcome as we pursue our goal of archaeological conservation in collaboration with the Easter Island Statue Project (EISP).  This contribution has been completed and you will be receiving an email confirmation of your donation from mail@eisp.org. Please continue to follow our project on eisp.org or at Facebook and Twitter as we update our reports and blogs.
Thank you very much for your concern for historic preservation, and for becoming a Friend of EISP.  Together we can accomplish this monumental task!
Very best regards,
Jo Anne Van Tilburg
Easter Island Statue Preservation Foundation
U.S.Federal I.D. No. 45-4057949
Follow EISP to keep updated on the latest news!

Among Stone Giants:
The Life of Katherine Routledge and Her Remarkable Expedition to Easter Island
A Biography by Jo Anne Van Tilburg
"The archaeologist Jo Anne Van Tilburg, the leading authority on the statues themselves, has used her understanding of Easter Island history and statues in her biography of the remarkable self-trained archaeologist and ethnographer Katherine Routledge, who spent seventeen months on the island in 1914-1915, and whose unpublished handwritten field notes Van Tilburg deciphered. The information in those notes is of lasting value, because Routledge was an excellent interviewer, and some of her older informants had participated in the island's last traditional ceremonies (the so-called Orongo birdman rites). Those informants told Routledge masses of information about traditional Easter Island society that would otherwise be lost to us. Van Tilburg has really given us three books in one: a history of a unique society, a Gothic novel, and a powerfully moving biography. The variously furious, passive-aggressive, inept, and effective relations of Routledge and her husband with each other, with other expedition members, with islanders, and with the island priestess Angata, who gained spiritual power over Routledge—all that makes a fascinating story."
—The New York Review of Books, 2004
"The archaeologist Jo Anne Van Tilburg's Among Stone Giants is a copiously researched biography of Katherine Routledge…In Van Tilburg's hands, Routledge is as striking an enigma as the island she studied….there's more than enough drama to be had [in Routledge's] admirable achievements and poignant setbacks. Van Tilburg's background as an archaeologist and her long familiarity with Easter Island prove essential to her understanding of the Routledges' accomplishments…."
—The New York Times Book Review, June 17, 2003
"In Among Stone Giants, Jo Anne Van Tilburg has painted a vivid portrait of Katherine Routledge, a woman who defied the Victorian strictures of her day to become a great adventuress—traveling the world, making important archaeological discoveries, and serving as an early inspirational feminist to young women on many continents. Routledge's brave but ultimately tragic battle with schizophrenia reads as a cautionary prologue to the anguish that John Nash would experience many years later."
—Lisa See, Author of On Gold Mountain
"Sure-footed biography of one of the first Europeans to give serious attention to Easter Island's cultural heritage…It took a character of steel for Routledge to achieve what she did, and Van Tilburg calls her forth in all her headstrong, blunt, and turbulent glory."
—Kirkus Review
"Much as A Beautiful Mind did for John Nash, this biography preserves Routledge's invaluable scientific contributions without shying away from the tragic circumstances of most of the rest of her life." (starred review)
—Publishers Weekly
"In this remarkable book, Van Tilburg brings Katherine Routledge to life and allows us to see her in three-dimensions—as a early female scientist who devoted years to the study of Easter Island archaeology and ethnology; as a wife who could be weak or full of wrath; and as a woman with a troubled mind haunted by ghosts of long-ago and by Angata, a Rapa Nui woman with psychic powers."
—Adrienne Kaeppler, Curator of Oceanic Ethnology, Smithsonian Institution, Washington, D. C.
"Van Tilburg thoroughly covers the research of Katherine Routledge and company in Southeast Polynesia, situating it within the context of modern historical findings for the region. After this splendid biography putting her classic work on the Rapa Nui in context, Easter Island becomes a mystery no more."
—Roger C. Green, Professor Emeritus, Department of Anthropology, University of Auckland
"Among Stone Giants tells the remarkable story of the first female archaeologist to work on remote Easter Island in 1913, and of her desperate struggles with mental illness. Jo Anne Van Tilburg, herself an authority on Rapa Nui's past, has written a stellar biography, based on thorough detective work and historical sleuthing, which puts Katherine Routledge's work in modern perspective. No one working on Easter Island can afford to be without this definitive book, which will also appeal to even the casual visitor."
—Brian Fagan, Professor of Anthropology, University of California, Santa Barbara
"Based on years of impeccable scholarship and research ranging from Santiago to London, and Berkeley to Easter Island, Jo Anne Van Tilburg has brought the little known tale of Katherine Routledge and her expedition to light in a riveting account that will engage anyone who has ever wondered about the 'mysteries' of Easter Island. Herself an expert on Easter Island archaeology and prehistory, Van Tilburg tells Routledge's story with finesse and sympathy…[she] deserves great credit for this superb biography of a remarkable woman."
Patrick V. Kirch, Class of 1954, Professor of Anthropology, University of California, Berkeley
"Van Tilburg's empathy with her often-difficult but 'brilliant and brave-hearted' subject is profound."
—The Seattle Times
"Among Stone Giants is an "enthralling" biography that demands to be "savored slowly"… Archaeologist and author Jo Anne Van Tilburg learned of Routledge in the course of her own work on Easter Island, yet her book is no dry dissertation; the author makes her subject's life before, during and after Easter Island seem equally fascinating."
—Kate Hensler Fogarty, The Washington Post
"This biography is both unexpected and intriguing. It is a fascinating journey that shouldn't be missed."
—Edmonton, Canada Journal, May 25, 2003
"Van Tilburg herself is an archeologist, and her excavation of Katherine Routledge's life is both an act of piety toward an unjustly forgotten forerunner and a genuine addition to the history of the discipline… It is, quite simply, a ripping yarn."
—National Post (Canada)
Among Stone Giants: 
The Life of Katherine Routledge and Her Remarkable Expedition to Easter Island
A Biography by Jo Anne Van Tilburg
Katherine Routledge is a central figure in the history of Easter Island, one of the world's most remote and mysterious locales. Born to a wealthy and prestigious English Quaker family in 1866, Katherine rebelled against their strict Victorian values, becoming one of the first female graduates of Oxford University and the first woman archaeologist to work in Polynesia.
At the age of forty, Katherine married a charismatic Australian adventurer, William Scoresby Routledge, and they built a ninety-foot, state-of-the-art yacht, christening her Mana, the Polynesian word for "spiritual power." From 1913 to 1915, Katherine and Scoresby led the Mana Expedition to Easter Island, where Katherine conducted the first-ever excavations of the island's world-famous stone statues. Katherine collected vast quantities of new information, which she faithfully transcribed into her journals and field notebooks. Through interviews with dozens of elderly men and women, she was able to save the history of the island, whose population was struggling back from the brink of extinction. Without Katherine's extraordinary efforts, Easter Island's traditional beliefs and customs would have been forever lost.
Katherine''s hard work came at a terrible price. A family history of schizophrenia and a deep sense of spiritualism brought her under the spell of an old mystic named Angata, who led an Easter Island rebellion in which Katherine played a central role. After her return to England, she heard "voices" that precipitated a separation from Scoresby and nearly destroyed her ability to write and to publish her fieldwork. Her family blamed Angata, the Easter Island "witch doctor," for driving Katherine insane. With Scoresby, they kidnapped Katherine from her lavish London home and isolated her in an asylum, where she died seven years later.
Many of Katherine's papers were thought to be lost until they were discovered by Jo Anne Van Tilburg, the contemporary world's leading authority on the Easter Island statues. In this compelling biography, Dr. Van Tilburg brings her unique expertise to Katherine Routledge's discoveries and to her turbulent life. The result is an exciting personal story, set against the drama of Katherine's remarkable exploration of one of the most intriguing archaeological sites in the world.
Illustrated paper delivered in Session 3c: Workshop "Pursuing Best Practices in Site Preservation." Moderator:  Alexandra Cleworth.  111th Annual Meeting, Archaeological Institute of America, Anaheim, CA, 9 January 2010. Abstracts Volume 33. Boston University:  Archaeological Institute of America, 55.
The monumental stone statues of Easter Island (Rapa Nui), Chile are world-famous icons of artistic imagination and engineering ingenuity.
Their fragility, coupled with the fact that Easter Island is a major tourist destination, creates an urgent conservation imperative. Our modern archaeological inventory preserves them and their individual histories, facilitates the articulation of cultural identity, and supports shared stewardship and sustainability in a tourist-based economy.
[Read More…]
6-9 January 2010 Anaheim, California
Click here to go to the AIA website for more information