Recording, Documentation, and Information Management for the Conservation of Heritage Places
Volume II: Illustrated Examples
Edited by Rand Eppich and Amel Chabbi
Los Angeles: The Getty Conservation Institute, 2007.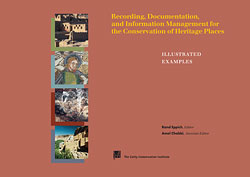 Mapping Features
by Jo Anne Van Tilburg, Cristián Arévalo Pakarati, and Alice Hom
in Section 2: Base Recording: Gathering Information. Pages 31–36. [pdf, 8.9MB]
EISP contributed a case study on GPS mapping of features in Rano Raraku Quarry to this handbook of documentation techniques.
Main publication page: The Getty Conservation Institute