Objects have many stories to tell. The stories of their makers and their uses. Stories of exchange, acquisition, display and interpretation. This book is a collection of essays highlighting some of the collections, and their object biographies, that were displayed in the Uncovering Pacific Pasts: Histories of Archaeology in Oceania (UPP) exhibition. The exhibition, which opened on 1 March 2020, sought to bring together both notable and relatively unknown Pacific material culture and archival collections from around the globe, displaying them simultaneously in their home institutions and linked online at www.uncoveringpacificpasts.org. Thirty‑eight collecting institutions participated in UPP, including major collecting institutions in the United Kingdom, continental Europe and the Americas, as well as collecting institutions from across the Pacific.
Uncovering Pacific Pasts is available for free download, including Jo Anne Van Tilburg's chapter, "Intelligent Eyes: Visualising Rapa Nui (Easter Island) Archaeology".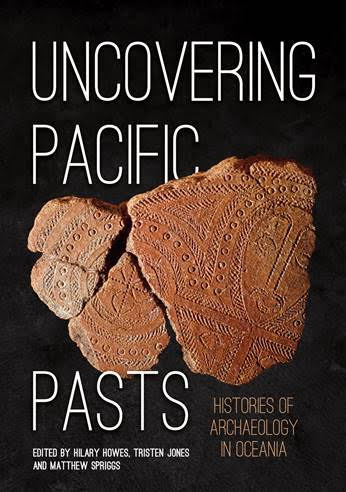 Katherine Routledge (1866-1935), Alfred Métraux (1906-1963) and Juan Tepano (c.1867-1947)
This is a condensed and edited version of an unpublished paper given in the invited Presidential Session "The Ethnographer's Discipline:  Alfred Métraux (1902-1963) in his Centenary" at the American Anthropological Association's Centennial Meeting, New Orleans, 2002.  It was further edited for and presented at a session of the Pacific Arts Association meeting, Salem, Mass., 2005.
Field Notes, Travel Writing and Professional Ethnography
Field work, and the field notes such work produces, supplies the discipline of anthropology with new ethnographic information.  Before ethnography was established as a discipline in the 1840s, the critical and comparative observations of early Pacific voyagers produced rich accounts of Oceanic cultures.  "Recent studies of ethnography as a genre bring out the many tropes it shares with unscientific, lay forms such as travel writing."
Consider the words of Alan Howard, in his foreword to Robert Borofsky's Making History: "By examining the residues of ethnographic research…we can develop a more sensitive understanding not only of the peoples we study but of our own constructions about them."  This paper examines the "residues" of research produced by two early investigators who were powerful personalities on Easter Island (Rapa Nui):  Katherine Pease Routledge and Alfred Métraux. [Read More…]
A paper given by Jo Anne Van Tilburg in the Civilized Living Series at The Mount, Edith Wharton's Estate and Garden, Lenox, Mass., September 1, 2005.
There are two ways of spreading light: to be the candle or the mirror that reflects it.

Edith Wharton
Introduction
Edith Wharton, distinguished American author and philanthropist, was born into the upper reaches of the enormously wealthy, stratified and highly mannered society of "old New York." Across the Atlantic "pond" in England, Katherine Routledge, explorer and writer, was born into English country gentry. A birthright Quaker and member of one of the era's most successful entrepreneurial families, her family fortune was roughly comparable to Wharton's. Wharton and Routledge, only four years apart in age, lived independent lives of luxury and high social status in directly related cultures sharing the same language and customs. The same insular and narrow social forces acted upon them, and the same rigid standards of feminine behavior were imposed upon them. [Read More…]
This is an edited excerpt from a presentation entitled "Sex, Lies and Fieldnotes: A Skeptic on Easter Island" given at The Skeptic Society, Cal Tech, Pasadena, 2003
Katherine Routledge was the first woman archaeologist to work in Polynesia. Attracted by the international mystery of Easter Island's giant stone statues, she and her husband William Scoresby Routledge built their own yacht. They christened her Mana, a Polynesian word meaning spiritual power and, on Feb. 28, 1913, set sail from Southampton, England. Over a year later, the Mana Expedition arrived on storied Easter Island (called Rapa Nui).