Letters from the Director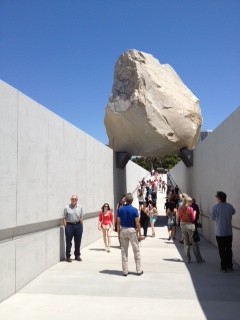 Dear Friends of EISP,
As director of the UCLA Rock Art Archive, I have had the privilege of studying the seminal research of renowned California archaeologist Robert F. Heizer.  He spent much of his professional life researching prehistoric art, known as rock art.  His son, the famous artist Michael Heizer, grew up exploring his father's excavations throughout California. Michael Heizer's masterwork, entitled "Levitated Mass," is a massive granite boulder weighing 340 tons.  Installed at the Los Angeles County Museum of Art, "Levitated Mass" is a profoundly literal interpretation of "rock art."  Transported from a distant desert quarry, the boulder was moved along a 105 mile route with minimal environmental impact and accompanied by a cacophony of Internet  tweets. The space shuttle Endeavor, in contrast, recently traversed the city in a challenging 12 mile journey that Los Angeles Times architecture critic Christopher Hawthorne likened to an ancient ceremonial procession. Both events involved advanced industrial technology, enormous resources, careful and farsighted planning, large numbers of participants and crowds of observers, and were motivated by the goals of history, private passion, and public education.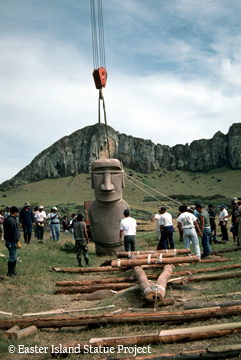 Robert Heizer and I share another interest: the pre-industrial transport of large and heavy objects in megalithic cultures around the world.  He speculated about ancient methods of moving Olmec heads as well as Mayan stone blocks and Egyptian monoliths.  My interest, of course, is Easter Island (Rapa Nui) and the ancient engineering skills and tools needed to transport the stone statues (moai) from the quarry where they were carved to the ceremonial sites upon which they were raised. Eight different experiments to move moai in horizontal (prone or supine) or vertical (upright) positions have been reported over the years, and others have been tried. Beginning in about 1990, I researched probable transport methods based upon known Polynesian techniques and skills, and in 1998 we conducted a successful experiment using a full-scale concrete replica on Rapa Nui.  Filmed by PBS Nova, it was an exciting learning experience that drew upon our extensive knowledge and participation in the island-wide archaeological survey.  Our experiment demonstrated the viability of our  method.
A recent attempt to, once again, "walk" a scaled down statue model was depicted by PBS Nova. Did it work? Apparently it did, as others have, at least to a certain extent.  Are any of the upright methods actually viable  on the  Rapa Nui terrain? Not very likely.  In the meantime, recent photos of our excavations caused a world-wide stir when more than 40 MILLION VISITORS  to  this web site discovered that "Easter island heads have bodies!!"
Jo Anne Van Tilburg and Cristián Arévalo Pakarati lead an all-Rapa Nui crew and core staff consisting of Dario Ika Paoa, excavator; Patricio Rodrigo Madariaga Paoa, excavator; Vaiheri Tuki Haoa, photographer; and Rosa Lucía Ika Paoaand Anastasia Ika Paoa, logistics and support.
We have been joined seasonally by Carlos Rapu Rapu, Benjamin Mihaore Pakarati González, Ana Pakarati Icka, Margarita Pakarati, and Melisanda Pakarati;
Rapa Nui students in archaeology and conservation, some of whom are from Universidad Internacional SEK,  include Isaías Hey Gonzáles, Joaquin Soler Hotu, Rafael Paoa Rapu, Tiktehatu Astete Paoa and Felipé Rubio Munita.
Dr. Christian Fischer and Mónica Bahamondez Prieto are in charge of the conservation initiative of our AIA-funded project, with Paula Valenzuela and Tahira Edmunds on field data collection.
EISP staff who have worked on the excavation include Alice Hom (2010) and Kim Anh Hoang (2011).
Volunteers include Tokerau Pakarati Icka, Hotu  Pakarati Icka, and Johannes Van Tilburg, FAIA. CONAF employees, especially Pablo Hito, have all been present or involved at one time or another.
Easter Island Statue Project Conservation Initiative
Season V Excavation Summary
RR-001-156 and Square 4, RR-001-157
Jo Anne Van Tilburg
November 2011
Introduction
This report is another in a series of reports dealing with the excavation of statues RR-001-156 and RR-001-157 in Rano Raraku quarry, Rapa Nui, Chile. The previous reports were filed with the appropriate Chilean and Rapa Nui agencies and also provided to the general public on the Easter Island Statue Project web site (www.eisp.org). This report deals with the continuing excavation of statue RR-001-156 to the base and Square 4 of RR-001-157. These activities took place during Season V (November 2011) of the Easter Island Statue Project Conservation Initiative.
[Read More...]
Save the Easter Island Statues
Dear Friends,
Through a methodical archaeological survey we have accomplished the digital mapping of Rano Raraku statue quarry, documented over one thousand statues throughout the entire island and created the world's largest archaeological archive describing the statues.
Working with scientific colleagues at The Cotsen Institute of Archaeology at UCLA and with conservators from Chile's Centro Nacional de Conservación y Restauración. We are excavating and conserving statues in Rano Raraku interior quarry.  Knowledge gained there will allow preservation of other statues throughout the island.
In 2008, our work was rewarded with a grant from the Site Preservation Task Force of the Archaeological Institute of America (AIA; www.archaeological.org).
A wonderful AIA grant jumpstarted our conservation initiative. EISP has no endowment. Our only source of income is grants and U.S. tax deductible contributions.  We also enjoy profit sharing through sales of contemporary indigenous art in our Mana Gallery on Easter Island.
Please join us in A Monumental Task, become a Friend of EISP!
—Jo Anne Van Tilburg