Letters from the Director
Dear Friends of EISP,
Best wishes for health and happiness as we enter a new decade! Thanks to all of you who share our interests and your passions for Rapanui art and archaeology. The past year produced many new accomplishments!  Most importantly, we made solid progress on our Atlas of Easter Island and celebrate our recent publication: "New excavations in Easter Island's statue quarry: Soil fertility, site formation and chronology." S.C. Sherwood, J. Van Tilburg, C. R. Barrier, M. Horrocks, R.K. Dunn, J.M. Ramírez-Aliaga Journal of Archaeological Science 111 (2019) 104994.
Mana Gallery
The Mana Gallery, Rapa Nui recently exhibited "100 Icons." Cristián Arévalo Pakarati, co-owner of the gallery with Jo Anne Van Tilburg, assembled a cadre of talented Rapanui artists to produce and exhibit new carvings.  Many swayed from the gallery beams overhead, just as French artist Pierre Loti saw in 1872 when in the home of a long-ago Rapanui artist. The Rapanui community and friends from the Bowers Museum, Santa Ana, CA attended the opening. Mark your November 2020 calendars and join us when the Mana Gallery celebrates 15 successful years!
Mana Gallery Press
Dr. Adrienne L. Kaeppler, Curator of Oceanic Ethnology, Smithsonian Institution, was awarded the Secretary's Research Prize for the The Iconic Tattooed Man of Easter Island on November 6, 2019.  Co-authored by Jo Anne Van Tilburg, it was published by Mana Gallery Press, 2018. The book was lauded as an example of "interdisciplinary and collaborative research excellence" and the award was based upon the "quality of research, originality, grace and clarity of writing, and usefulness of the research to the scholarly field and society."
Rock Art Network (RAN)
Jo Anne Van Tilburg participated in the Getty Conservation Institute-sponsored RAN colloquium. The fourth in series of important meetings led by Dr. Neville Agnew, the colloquium took place in France and Spain in October 2019, and looked at site and object replication as conservation.
CBS 60 Minutes
The CBS 60 Minutes segment about Rapa Nui, and our interview with Anderson Cooper, has proved interesting enough to the public that it recently warranted rebroadcast.  The conservation and ecological concerns expressed by many in that program remain pressing.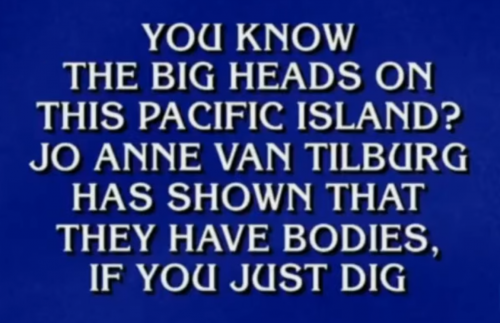 Just for Fun:  Jeopardy!
We know that the scientific excavations and conservation emphasis of EISP has filtered into the public consciousness when we become a question on the endlessly popular Jeopardy!
Easter Island Statue Project
August 12- 31, 2014
Dr. Jo Anne Van Tilburg, UCLA Project Director
Cristián Arévalo Pakarati/ Rapa Nui Project Co-director
José Miguel Ramírez A., Universidad de Valparaiso, Co-investigator
Introduction
This report is prepared as part of a numbered series that describes the excavations conducted by the Easter Island Statue Project in Rano Raraku Quarry Zone, Interior Region, Quarry 02, Statues RR-001-156 and RR-001-157. The team is composed of an all-Rapanui excavation staff directed by the project Co-directors. With the completion of the conservation and scientific investigations conducted by our Chilean collaborator, Monica Bahamondez P, and our UCLA collaborator Dr. Christian Fischer, we were joined this season by our new Chilean collaborator Sr. José Miguel Ramírez A., Universidad de Valparaíso. Our research agreement is contained in a Memo of Understanding between the Universidad de Valparaíso and the Cotsen Institute of Archaeology at UCLA. This report summarizes our collections and investigations for the period beginning Monday, March 10 and ending Monday, March 14, 2014.  This report is part of a preliminary final report that includes some but not all of our in-process laboratory test results and collections analyses, as per our permit CMN ORD 5467-09. A final report will be published in 2015-2016 by the The Cotsen Institute of Archaeology Press.
Easter Island Statue Project Phase 2, Season 1
August 2013
Jo Anne Van Tilburg and Cristián Arévalo P.
This report describes recent excavations beginning Phase 2 of the project and concentrating on the ventral side of Moai RR-001-156. These excavations are a continuation of limited excavations conducted on the ventral side during Phase 1, which focused on reaching the base of the statue on the dorsal side.  The excavation season commenced on August 6, 2013 and actual excavation ended on August 29, 2013. The excavation was subsequently closed to protect it from heavy rains and with the help of personnel from CONAF and CMN.
Easter Island Statue Project (EISP) Conservation Initiative
March 2012
Jo Anne Van Tilburg and Cristián Arévalo Pakarati have accomplished an archaeological survey and inventory of the monolithic stone sculpture (moai) of Rapa Nui. To date, we have accounted for 1,300 monolithic sculptural objects within the island-wide survey sections, in museum collections, and within the Rano Raraku quarry zone, including complete (as opposed to intact) statues, heads, torsos, fragments, shaped block. The latter are considered to be evidence of human activity in the form of incomplete or abandoned projects elucidating energy investment. The most recent object entered into our collaborative on-line database (DATASHARE) is a red stone torso submitted by Enrique Tucki M. of the Oficina Provincial, the Corporación Nacional Forestal (CONAF).
Easter Island Statue Project Conservation Initiative
Season V Excavation Summary
RR-001-156 and Square 4, RR-001-157
Jo Anne Van Tilburg
November 2011
Introduction
This report is another in a series of reports dealing with the excavation of statues RR-001-156 and RR-001-157 in Rano Raraku quarry, Rapa Nui, Chile. The previous reports were filed with the appropriate Chilean and Rapa Nui agencies and also provided to the general public on the Easter Island Statue Project web site (www.eisp.org). This report deals with the continuing excavation of statue RR-001-156 to the base and Square 4 of RR-001-157. These activities took place during Season V (November 2011) of the Easter Island Statue Project Conservation Initiative.
[Read More…]