Letters from the Director
Dear Friends of EISP,
Like so many of you around the world, we here at EISP are sequestered during the global pandemic. The EISP office has been closed for over three months now, and our in-person work at the Rock Art Archive is on hold while all of UCLA shifts to explore the new advantages and pitfalls of distance learning and sharing Yet, again like so many of you, we are still deeply engaged, sometimes busier than ever, and still making great progress as our tightly knit group remains constantly, albeit remotely, in touch with each other. The EISP research team continues to pursue writing, editing, and producing our planned "Atlas of Easter Island." Zoom meetings facilitate conversations with our international colleagues at the Getty Conservation Institute sponsored Rock Art Network (RAN). During our meetings we make important plans but also share stories, including about rock art recording near the Argentina/Chile border during the pandemic, colorful "zoom bombing" events in Australia, and myriad other events in multiple time zones while staring at dear faces on tiny screens. Happily, our friends and colleagues living and working on Rapa Nui are all well and have emerged, for now at least, from sequestration. The Mana Gallery is open but hours of operation are impacted by current events.
Today is a BIG DAY! We here at EISP draw your attention to a special opportunity! Grab a glass of champagne and join us in an exciting new digital film premier! Take a 28-minute virtual and cinematic journey through France's 36,000-year-old Chauvet Painted Cave, one of the world's greatest rock art wonders and a treasure trove of creative human energy. Truly an inspiration for us all at this trying time!
The Final Passage
May 7 to June 7, 2020
The Final Passage Film Director Pascal Magontier and Producer Martin Marquet invited members of the Rock Art Network, a global movement established by The Getty Conservation Institute and the Bradshaw Foundation, to join them in the worldwide online release of this 28-minute film. A journey through France's 36,000-year-old Chauvet Painted Cave, The Final Passage premiered at the 2015 Locarno International Film Festival.
The dedicated website (above) hosting the May 7th digital premiere includes English and French versions of the film, respectively narrated by musical legend Marianne Faithful and actress Anouk Grinberg. The site offers a special essay by former Lascaux curator and renowned archaeologist and author, Jean-Michel Geneste, who led 20 years of archaeological research at the Chauvet-Pont d'Arc Cave. This site is a wonder and this opportunity is not to be missed! See you at the movie!!
https://ioa.ucla.edu/content/rock-art-archive
http://www.bradshawfoundation.com/rockartnetwork/jo_anne_van_tilburg.php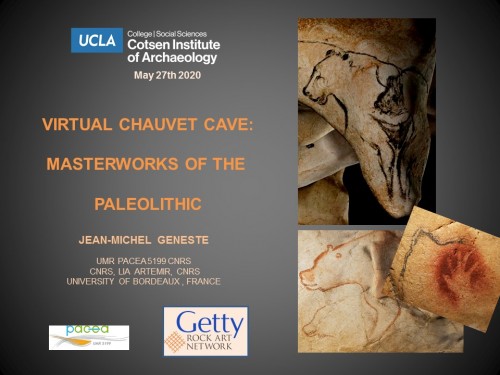 Virtual Chauvet Cave: Masterworks of the Paleolithic
Discussion and Q & A
Wednesday, May 27, 2020, 12:00 – 1:00 PM
Space is limited. Please register by May 25.
Easter Island Statue Project
August 12- 31, 2014
Dr. Jo Anne Van Tilburg, UCLA Project Director
Cristián Arévalo Pakarati/ Rapa Nui Project Co-director
José Miguel Ramírez A., Universidad de Valparaiso, Co-investigator
Introduction
This report is prepared as part of a numbered series that describes the excavations conducted by the Easter Island Statue Project in Rano Raraku Quarry Zone, Interior Region, Quarry 02, Statues RR-001-156 and RR-001-157. The team is composed of an all-Rapanui excavation staff directed by the project Co-directors. With the completion of the conservation and scientific investigations conducted by our Chilean collaborator, Monica Bahamondez P, and our UCLA collaborator Dr. Christian Fischer, we were joined this season by our new Chilean collaborator Sr. José Miguel Ramírez A., Universidad de Valparaíso. Our research agreement is contained in a Memo of Understanding between the Universidad de Valparaíso and the Cotsen Institute of Archaeology at UCLA. This report summarizes our collections and investigations for the period beginning Monday, March 10 and ending Monday, March 14, 2014.  This report is part of a preliminary final report that includes some but not all of our in-process laboratory test results and collections analyses, as per our permit CMN ORD 5467-09. A final report will be published in 2015-2016 by the The Cotsen Institute of Archaeology Press.
Easter Island Statue Project Phase 2, Season 1
August 2013
Jo Anne Van Tilburg and Cristián Arévalo P.
This report describes recent excavations beginning Phase 2 of the project and concentrating on the ventral side of Moai RR-001-156. These excavations are a continuation of limited excavations conducted on the ventral side during Phase 1, which focused on reaching the base of the statue on the dorsal side.  The excavation season commenced on August 6, 2013 and actual excavation ended on August 29, 2013. The excavation was subsequently closed to protect it from heavy rains and with the help of personnel from CONAF and CMN.
Easter Island Statue Project (EISP) Conservation Initiative
March 2012
Jo Anne Van Tilburg and Cristián Arévalo Pakarati have accomplished an archaeological survey and inventory of the monolithic stone sculpture (moai) of Rapa Nui. To date, we have accounted for 1,300 monolithic sculptural objects within the island-wide survey sections, in museum collections, and within the Rano Raraku quarry zone, including complete (as opposed to intact) statues, heads, torsos, fragments, shaped block. The latter are considered to be evidence of human activity in the form of incomplete or abandoned projects elucidating energy investment. The most recent object entered into our collaborative on-line database (DATASHARE) is a red stone torso submitted by Enrique Tucki M. of the Oficina Provincial, the Corporación Nacional Forestal (CONAF).
Easter Island Statue Project Conservation Initiative
Season V Excavation Summary
RR-001-156 and Square 4, RR-001-157
Jo Anne Van Tilburg
November 2011
Introduction
This report is another in a series of reports dealing with the excavation of statues RR-001-156 and RR-001-157 in Rano Raraku quarry, Rapa Nui, Chile. The previous reports were filed with the appropriate Chilean and Rapa Nui agencies and also provided to the general public on the Easter Island Statue Project web site (www.eisp.org). This report deals with the continuing excavation of statue RR-001-156 to the base and Square 4 of RR-001-157. These activities took place during Season V (November 2011) of the Easter Island Statue Project Conservation Initiative.
[Read More…]