Field Dispatches: July 2004
Final Mapping Season
Dear EISP colleagues and site visitors,
Iaorana korua! Welcome to EISP's dispatches, jottings, and journal entries, sent to you by our 2004 field team on Rapa Nui. Our records and reminders are of work done, people encountered, questions posed, and ideas explored. We are happy to share with you our adventures on Rapa Nui!
—Jo Anne Van Tilburg and the EISP 2004 Field Team
12 July 2004: Preparing for Departure!
Hello! It's the day before the big trip. I've been gathering up the necessary field materials and will leave the Archive at UCLA soon (I hope). We'll be updating this page with new photos as soon as we get situated on Rapa Nui. Glad to have you along for the ride!
—Alice, Los Angeles =)
I'm happy to have all my team back on the island! It's very exciting to think we will be able to finish the final mapping of the interior quarry. It has been very nice weather in this season (winter) and I miss Bill's good coffee!
—Cristian, Rapa Nui
14 July 2004: Flying!
As we wing our way toward Rapa Nui, I am thinking of the work ahead. This is our final mapping season in Rano Raraku interior quarry!! We began our first and second field seasons with Peter Boniface of Cal Poly Pomona on our team, and on this trip one of his students, Matthew Bates, is carrying on that work, joining our team as surveyor. He will complete an important and challenging series of mapping tasks in both Sections C and D, and the statue survey points he collects will be augmented, as in past seasons, by digital and metric data.

Our goal is to establish the exact position of each remaining, unsurveyed statue in quarries C and D and to record in detail the evidence that will allow us to later integrate the quarry statues into the existing EISP database. The quantitative morphological and stylistic information we are collecting in the interior quarry will be reflective of the levels of documentation we have established to date. As a final outcome, we hope our data will provide us with one more tool that will allow us to reconstruct, challenge or confirm what has been theorized about the techniques and phases of carving, function and meaning of the statues.
On the exterior of Rano Raraku, we will evaluate the statues standing on the slopes. We will take (and, in some cases, re-take) the total length above ground measurement (using a telescoping measuring rod), the circumference, and compass orientation. Mapped by the Universidad de Chile team in 1981, our goal on the exterior is to update all available information and link the two maps and two sets of data. We hope to gain greater insight into carving, moving and erecting these, in some cases the newest, statues in Rano Raraku.
This work, now in its final stage, will accomplish four things: it will frame the final stage of the EISP, providing the interactive map that will organize the final publication of the island-wide statue survey we have accomplished; it will provide the setting for the full, historical excavation records created by previous investigators (since the Mana Expedition to Easter Island, 1914); it will allow for the setting of excavation priorities, and it will provide the island planning authorities with the information they need to evaluate and continue their planning of the tourist experience in Rano Raraku, perhaps the island's most important visitor site.
We are especially grateful to CONAF, to the Municipalidad of Hanga Roa, and to all of our Rapa Nui friends and supporters for their continued warm welcome and generous, helping hands.
To date, we have documented three-fourths of all statues in all five archaeololgical zones of Rano Raraku. We have localized 139 features in the previously unmapped interior quarries. These consist of statues in all phases of carving, from shaped blocks to final, finished objects. We have identified 19 discrete interior quarries out of which the statues were taken. We can see the specific stages of carving for each individual statue, from roughing out to final detailing. We have recorded rock art on both statues and quarries. As our map evolves we see that the distribution of statues within the interior creates a complex surface stratigraphy of interrelated, superimposed and juxtaposed elements.
The work is hard and physically challenging. The slopes are steep, and some of the quarries are very high…but it is not daunting. We look forward to it, and we are happy to share the excitement of discovery with you through these journal entries. Stay with us!
—Jo Anne Van Tilburg
17 July 2004:
After a long flight, a visit to the Rapa Nui collections in the Fonck Museum in Vina del Mar, and a flower-filled, joyful island arrival, we take the first two days to orient ourselves. Our first order of business is equipment shake-down, logistics planning and organization for the work ahead. Cristian takes Matt out to reconnoiter the quarry. Then he and Matt cut the stakes we need to establish datum points, and the rest of us spend a rainy day in our "lab" at the Hotel Otai, analyzing our map work to date, comparing survey points with computer drafted and hand drawn maps, and rectifying data. We're now all on the same page and ready for the field!
—Jo Anne Van Tilburg
19 July 2004: Umu Tahu
To begin our work in the most auspicious way, Felicita Hucke and her family host an umu tahu (underground oven) for our team at Rano Raraku. Their kindness and good wishes, along with the great food served in this traditional Rapa Nui manner, are meant to bring us good luck and our project success.
—Jo Anne Van Tilburg
20 July 2004: O, Island In The Sun
Every time I come to Rapa Nui, that wonderful Harry Belafonte song "O, Island In the Sun", a tribute to his Caribbean island home, runs through my mind.
For Rapa Nui is also a marvelous, wondrous and unforgettable island in the sun. Every day the sun's rays, from the first rooster cock-a-doodle-doo to the final "Sundowner", shine over this remarkable, lava encrusted volcanic land.
The main reason I am here is to help Jo Anne Van Tilburg document her important Easter Island Statue Project through photography and video. During the past two field seasons, I have been fortunate enough to photograph and shoot video of her work on many moai (the giant stone statues), and on a marvelous variety of people, places and things here.
Especially memorable are the interviews I have done with our Rapa Nui friends and collaborators and our team members, including Jo Anne, Cristian, Debra, Alice and Matt.
Jo Anne and I will soon be making an entertaining and informative video on our work here, as well as some of the memorable people of Rapa Nui.
I am very proud to be a part of Jo Anne's team working on the Easter Island Statue Project. Rapa Nui is a special place of peace, independence and joy, an unforgettable Island In The Sun.
—Bill White
21 July 2004:
Today was my first full day surveying in the quarry. With the Trimble 5700 base unit set on control point South, Cristian and I collect 300 points on the first three papa's of section C. For my first day working, that's not bad. The work was harder then I had imagined. I had to carry a 10 pound GPS rover unit while I hiked through six feet tall bushes on a slippery slope. From the walking path at the base of the slope, I had to hike about 25 meters up to the beginning of the papas and another 40 meters to the top. Cristian directs where he wants me to take the GPS reading and I take it. Cristian then records the point number on maps he drew last season of each papa. Our goal for the mapping project is to accurately collect details of each papa and every statue in the quarry. We are mostly interested in the outline of the papa, statue and channel orientation.
Although the work is hard, the view from the quarry makes all the pain worth it. From one point in the quarry I could see the island's north and south coasts, and between the coasts is a beautiful grass-filled prairie, like one you would see in an old western movie. The beauty of this island in like nothing I have ever seen before. The beautiful white sunsets. The stars. I have never seen so many stars! The ocean is a beautiful turquoise color mixed with the white crests of the waves. Everywhere I look, it seems like a postcard: just perfect.
—Matthew Bates
22 July 2004:
It is fascinating being here on Easter Island. Not only is the ocean and sky so huge and beautiful, but also the statues provoke so many questions. I wonder what it was like when they were made and used in rituals, and what they meant to the people then and what they mean now.

Along with assisting Alice and Jo Anne at Rano Raraku taking photos and measurements of the remaining statues to complete the database, I have been correcting the map of the interior of the quarry using Adobe Illustrator. I have imported the mapping data collected by Peter Boniface in 2003 and Matthew Bates in 2004 and I am drawing lines and connecting points using the rendering by Cristian of the quarry as my guide. I feel proud to work on this project. The enormous amount of data Jo Anne has collected will help the people of Rapa Nui preserve their statues.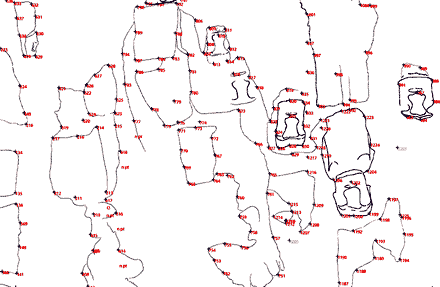 I feel lucky working with such a great team! Thanks, Jo Anne!
—Debra Isaac
22 July 2004: Thoughts on Cultural Experience
Today Jo Anne, Bill, and I worked in the exterior of the quarry to document the heights, circumferences, and current condition of the standing statues. Cristian worked in the interior of the quarry to finish sketching out areas that will be surveyed next week. Many of these standing statues are exposed to the winds and are very eroded within a short amount of time. Managing the image database in the last two years, I have seen the difference in appearance of the same statues photographed a few decades ago. Makes one wonder how much longer these iconic statues will last before they become totally unrecognizable.
A plane had landed last night and the quarry was teeming with newly arrived tourists on their first day of touring. The slope was full of people from all around the globe, accompanied by translators and guides. I hear shouting, and look up to see people pointing into the horizon where a spouting whale had been spotted off-shore! Jo Anne said she's never seen a whale near shore here in the seasons that she has worked here over the last two decades, so this is a special event. Although this is a return trip for many of us on the team, there is always something new occurring because this island is so interconnected with the whims of the climate and environmental conditions. But most of us agree that the island is now at the cross-roads of major development and the cultural shift to accommodate more commerce and tourism. For this reason, I find our experiences here to be unique in time and hope that our archeological documentation will be useful in the decision-making process that is guiding the means of cultural heritage and the experience of future visitors to Rapa Nui.
—Alice Hom
25 July 2004: Tongariki BBQ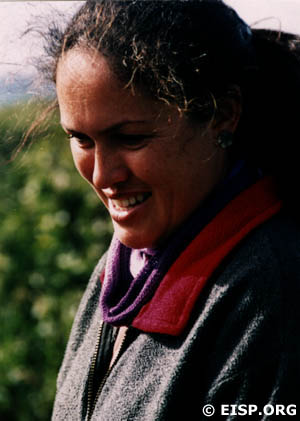 Today is a sunny, windy day, and we take off for a barbeque in the "campo," or field. Elena (Mazuela Hucke) is going with us, taking a day off from ushering tourists over the island's many archaeological sites. Elena, who spent five years as a member of my family in California, and her parents and relatives are all part of my beloved, extended island family. It's lovely, as always, to see her thriving after spending so much time away from home, traveling to Europe and the other Pacific islands. She has a continuous thirst for knowledge about her own Rapa Nui history, and is a good teacher for the many tourists she guides.
On our circumnavigation of the island we wander about, and Cristian spots a reddish piece of rock. Turning it over, we find details of hands and arms that reveal it to be a little, columnar torso. When we report out find to CONAF, we learn that it is, apparently, unknown. We will document it and add it to our growing database, and the little torso will be removed by the authorities to the museum for safekeeping.
We find a sheltered spot in the shadow of Ahu Tongariki and prepare a succulent barbeque, complete with Cristian's "secret sauce" (especially admired by Matt) and some great Chilean wine!
—Jo Anne Van Tilburg
Today is also Debra's last day on Rapa Nui. She is off on another adventure to Nairobi, Kenya with fellow UCLA Rock Art Archive volunteer Gordon Hull, to help the Trust for African Rock Art establish a digital image database. The EISP team bids them Bon Voyage and eagerly await news of their safari in Africa.
—Alice Hom
28 July 2004: Sub-tropical Winds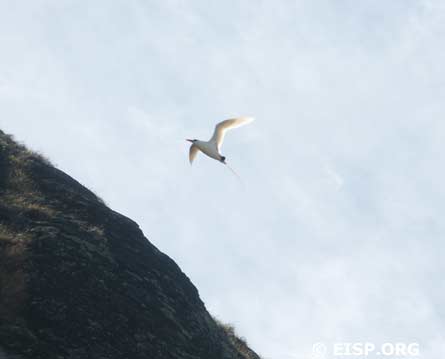 Overnight the temperature has dropped. A storm that has been threatening to dump rain on us for a day or two now seems more imminent. Most ominously, the wind has changed direction and is now blowing in gusts that ebb and flow, alternately chasing us or teasing us into thinking that they will die down. Alice decides to stay in the lab, working on cataloging the images we have collected and entering our field notes and statue condition reports. Matt, Cristian and I head for the interior of Rano Raraku quarry. Cristian's goal is to add details to his sketch map of Sections C and D, and Matt intends to take points on the statues that are standing at the base of the quarry slope or lying slightly higher on the slopes.
As Matt tries to set up his regular base station at the mouth of the entrance gap to the quarry, the wind kicks up a notch. Soon, enormous gusts out of the north are coming at us at about 30-35 miles per hour. Cristian and I struggle along the path into the crater, but then change our minds and take the more sheltered "low road" that leads down along the lake. When Matt joins us, the wind is still gusting. Pages of my field book flap wildly in the wind, making it nearly impossible to write. Cristian decides caution is the better part of valor and works drawing the features that lie toward the bottom of the slope, leaving the higher levels of the work for another day. As noon approaches it quiets down a bit. We sip coffee and contemplate the sky as black clouds roll in. A gentle rain begins to fall that, Cristian says, is a "scout rain" for a bigger storm lying off-shore. Even though the "scout rain" quickly passes, the wind refuses to die. Then Matt's equipment looses the radio signal it requires for the work we are doing on the standing statues ..the car battery that powers the base station, he thinks, has lost juice.
All in all, it seems futile to try to push it further, and we pack up our gear after about a half day in the field. The wind follows us out of the quarry and down to the truck. Over hot coffee at the CONAF park guard's station, Petero Tepano tells exaggerated tales of tourists blowing off various Rapa Nui cliffs into the sea. Even if only partially true, it is clear that the Rapa Nui wind can be dangerous!
—Jo Anne Van Tilburg
29 July 2004
30 July 2004: Interior surveying COMPLETE!
I am very happy that we have achieved the mapping work of the interior of Rano Raraku! I am most happy knowing that we have recorded the statues before they have lost all of their details. I am also happy that we have gotten out of there alive! The wind there is very strong, and during the last few days it has made the work really, really difficult. At this stage of our project I feel a little sad because all of my team is going back to the States. There will be no more of Bill's hot coffee in the morning! Now I'll make my own coffee and go back to continue to build our Mana Gallery. This place, which Jo Anne and I have been planning and looking forward to for a long, long time, will be used in the future to archive and display our project and to make all of our information available to the Rapa Nui community and to all island researchers and visitors.
—Cristian Arevalo Pakarati
At 2:45pm (Rapa Nui Time) on Friday, the 30th of July, 2004, team EISP successfully completed the surveying portion of a three-season project. In nine working days Cristian and I collected over 2200 points throughout sections C and D of the interior quarry of Rano Raraku. This task was asked of me approximately six months prior to departing on the journey; however, I was not prepared mentally or physically for the demands that would be placed upon to me. The terrain at Rano Raraku is like nothing I have ever experienced before. The rocks appear to the uneducated eye to be sturdy, but the eye will deceive you. On Thursday, the 29th of July, 2004, Cristian and I were working in Section D on statues 69 through 80, and we needed to collect some points on a ridge. The only way to get to the ridge was via a steep and slippery rock surface. I grabbed on to a rock that appeared secure to support myself, but it was not. It gave way and I would have fallen seven to ten meters if Cristian had not grabbed my arm. Thankfully, that was the only close call and everything else was essentially danger free.
The EISP project adds another chapter to my book of life. It has taught me a lot about myself, and I now know I have the ability to accomplish the task that is asked of me. It has also shown me how great was the education I received from California State Polytechnic University Pomona (Cal Poly Pomona). My training in surveying is from Cal Poly Pomona, and I have had some experience in form work. I have been working for a surveying company, Thomsen Company, for the past few months. To be able to take my education from school, along with my work experience, apply it directly to a real-life situation and then successfully complete the task is a great feeling! I want to thank those who I worked with, Jo Anne, Alice, Bill, Debra, and my new friend Cristian, for the opportunity to work with such a great team. I am proud to be apart of TEAM EISP!
—Matthew Bates
As the last point is entered, I feel as though we have ended a chapter but not closed the book. The work of this entire team has been remarkable, and their dedication and effort are nothing short of admirable.
At the end of the day, we pack up and head for a barbecue at Ovahe. Matt and Cristian head for the nearby cliffs for fishing (we've bought chicken, just in case). Great food, as usual, and then, with ours the only fire on the beach, we watch the full moon rise over Poike. A silvery, watery path is laid out on the surface of the sea, connecting us with the far away, eastern headland of the island. What a great, great day!
—Jo Anne Van Tilburg
1 August 2004: Into the depths of Rano Kau
Today the team took a hike into the depths of Rano Kau, a stunningly dramatic crater on the east end of the island next to Orongo, the impressive site of bird man petroglyphs and stone houses. We were on the hunt for a large boulder with petroglyphs previously documented by others. Jo Anne and Cristian believe that the designs on this stone are connected to motifs found on intricate wood carvings from Rapa Nui, which they documented last March in the British Museum collection.
Hiking down, it was a major surprise to suddenly be within a beautiful forest. The microclimate in the crater has nurtured lush vegetation such as ferns that are not seen much in other parts of the island. No one seems to know how deep the water in the crater is; it may be as much as a mile. Before Hanga Roa village had a direct water supply, people would hike or go on horseback down this sheer crater to do laundry and carry water out!
Cristian found the boulder we were looking for as well as two other pieces. The motifs were of birds with fish tails that wrapped over multiple faces of the boulder. It was a wonderful site to see after weaving through the thicket of trees. The spot is very private but signs of contemporary use are visible, unfortunately, in the graffiti carved over the boulder. People seem to feel the need to leave their permanent mark all through time, to the detriment of the artwork underneath. There are many other hidden petroglyph sites in the crater, soon to be redocumented in Cristian's beautiful renderings.
—Alice Hom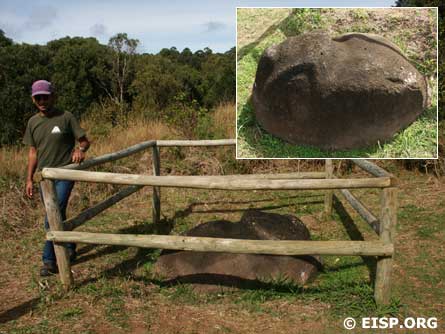 It was a pleasant surprise today to see, as we made our way up Rano Kau, that CONAF had erected a fence around site 1-206-001, a small boulder carved as a female figure. This important little carving, which we documented in 1983, is surrounded by a sturdy wood fence. A sign on the side of the road directs tourists to it. It is important that tourists see such interesting objects of Rapa Nui artistry, but equally important to protect them from damage.
—Jo Anne Van Tilburg
3 August 2004: Iaorana, Rapa Nui
It will be difficult to say iaorana or even "ciao" to Rapa Nui at the end of the week.
It has been another fabulous time here, my third trip. I love our work documenting the statues, as well as meeting people from all over the world who have come this very long way to see the magnificent giant stone carvings.
Invariably as we, the Easter Island Statue Project team, are photographing, drawing, surveying and writing condition reports on the statues, visitors will walk nearby and ask what in the world are we doing? I love to pause in my work and chat with them about the statues and Rapa Nui, as well as where the visitors are from
One day, for example, as I videotaped statues in the quarry at Rano Raraku, I met a couple from southern Michigan, a surfer Dude from Brisbane, a young woman from England who was holding hands with a young man from New Zealand, and a young French mother and her two very active sons, about 6 and 8 years old.
I found something in common with each of them and we chatted about the statues and the island, of course, but also about the Upper Peninsula of Michigan where I lived for 3 years, a surfing movie "Step Into Liquid" which has a short section on surfing on Easter Island, the British Museum which has a wonderful Moai taken from the island in 1868, that New Zealand is rapidly becoming a major movie production center, and that France has a fabulous archaeological site called Lascaux, which happens to be close to where the French mom lives.
On Friday, July 23, we saw whales near shore while we were working on the outside of the Rano Raraku crater. I switched my video camera to digital zoom to get the maximum effect and videotaped two whales cavorting with what appeared to be a calf.
Perhaps the memories I will most cherish will be of the beautiful, unbelievably happy children of Rapa Nui. For example, on Sunday, July 25, I went down to the little harbor at Hanga Roa to photograph the statues there. Suddenly I was engulfed by a crowd of young joyful children, swarming and posing all around me. This is not the first time that delightful kids have been eager to have me take their picture. Typically they give a peace sign or the Hawaiian "hang loose" hand gesture with thumb and little finger extended as they giggle and laugh and smile broadly.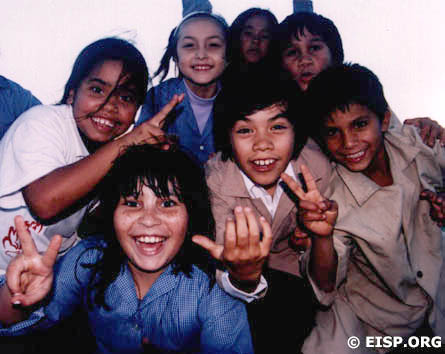 My tasks with the team have included photography and videotaping the statues, as well as interviews with Jo Anne and the other team members, assisting with surveying, and writing condition reports on the statues and rock art. I am very proud to be a part of the Easter Island Statue Project team. Under Jo Anne's leadership, our work is thorough, very accurate and extensive.
I love Rapa Nui. I love the rich mixture of people who live here as well as the dedicated team members I work with. I am continuously fascinated by Rapa Nui's lava rich mountainous land, the continuous crashing of aqua-blue waves topped with white foam froth, and the ever changing sunsets.
"Iaorana!", Rapa Nui, until the next time.
—Bill White
EISP Team, 2004: