Invitation to The Final Passage Digital Film Premiere
Dear Friends of EISP,
Like so many of you around the world, we here at EISP are sequestered during the global pandemic. The EISP office has been closed for over three months now, and our in-person work at the Rock Art Archive is on hold while all of UCLA shifts to explore the new advantages and pitfalls of distance learning and sharing Yet, again like so many of you, we are still deeply engaged, sometimes busier than ever, and still making great progress as our tightly knit group remains constantly, albeit remotely, in touch with each other. The EISP research team continues to pursue writing, editing, and producing our planned "Atlas of Easter Island." Zoom meetings facilitate conversations with our international colleagues at the Getty Conservation Institute sponsored Rock Art Network (RAN). During our meetings we make important plans but also share stories, including about rock art recording near the Argentina/Chile border during the pandemic, colorful "zoom bombing" events in Australia, and myriad other events in multiple time zones while staring at dear faces on tiny screens. Happily, our friends and colleagues living and working on Rapa Nui are all well and have emerged, for now at least, from sequestration. The Mana Gallery is open but hours of operation are impacted by current events.
Today is a BIG DAY! We here at EISP draw your attention to a special opportunity! Grab a glass of champagne and join us in an exciting new digital film premier! Take a 28-minute virtual and cinematic journey through France's 36,000-year-old Chauvet Painted Cave, one of the world's greatest rock art wonders and a treasure trove of creative human energy. Truly an inspiration for us all at this trying time!
The Final Passage
May 7 to June 7, 2020
The Final Passage Film Director Pascal Magontier and Producer Martin Marquet invited members of the Rock Art Network, a global movement established by The Getty Conservation Institute and the Bradshaw Foundation, to join them in the worldwide online release of this 28-minute film. A journey through France's 36,000-year-old Chauvet Painted Cave, The Final Passage premiered at the 2015 Locarno International Film Festival.
The dedicated website (above) hosting the May 7th digital premiere includes English and French versions of the film, respectively narrated by musical legend Marianne Faithful and actress Anouk Grinberg. The site offers a special essay by former Lascaux curator and renowned archaeologist and author, Jean-Michel Geneste, who led 20 years of archaeological research at the Chauvet-Pont d'Arc Cave. This site is a wonder and this opportunity is not to be missed! See you at the movie!!
https://ioa.ucla.edu/content/rock-art-archive
http://www.bradshawfoundation.com/rockartnetwork/jo_anne_van_tilburg.php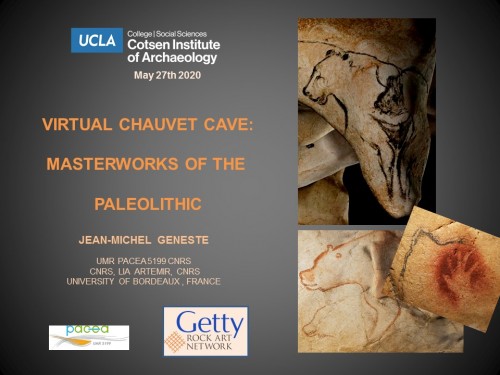 Virtual Chauvet Cave: Masterworks of the Paleolithic
Discussion and Q & A
Wednesday, May 27, 2020, 12:00 – 1:00 PM
Space is limited. Please register by May 25.