Jimmy and I began planning our trip to Rapa Nui in 2015, and his excited emails arrived from various global ports of call until finally a window opened in his schedule for 2016. His first idea was for a concert on the island with legions of friends and fans flying in to join the fun. As time passed, however, Jimmy changed his mind and really seemed to want a quiet, more contemplative visit. He imagined himself and his guitar with the world-famous Easter Island statues and the strains of "Delaney Sings to Statues" in the background. I did my best to accommodate his wishes, and we arrived from Tahiti with a small group: Jane, Jimmy, and me and a couple of their trusted staff members. He visited my archaeological site, greeted everyone he met with his warm smile, and went surfing with the locals.  One day he sang "One Particular Harbor" in the shadow of the island's most perfect statues. We watched and listened that day on 'Anakena beach, the spot we all imagined was the first place ancient Polynesian explorers first beached their voyaging canoe. It was beyond perfect, as always, and he was happy.  We all have our favorite Jimmy Buffet songs, and mine is "Love in the Library." We were a long way from home on that trip to Rapa Nui, but for me home arrived on the familiar and much loved wings of that Jimmy Buffett song.
Dear Friends of EISP,
It is often said that every dark cloud has a silver lining, and that is certainly true for Rapa Nui in 2023!
A New Find
As I reported in the recent issue of Backdirt, the annual report of the Cotsen Institute of Archaeology at UCLA, a grass fire in the eastern portion of the island was whipped by the wind into a raging inferno that burned through Rano Raraku. The lake dried and, this past week, site monitors working with Ma'u Henua and CONAF, organizations that co-manage the Rapa Nui National Park, were stunned to find a small moai exposed among the reeds. A full and complete report was immediately filed by archaeologist Isaías Hey González.
The Moai
The moai is 1.6 m total estimated height. It is lying supine with its base toward the south. Overall, the moai is sub-rectangular in shape. A hint of the carved hands on the lower front of the torso can be seen in photos, but many details remain to be established.
The EISP Database and Archives shares all data we have collected through mapping and excavations in Rano Raraku with Ma'u Henua, CONAF, and other local agencies. This moai is now registered as number RR-0001-285 for the EISP Interior Region of Rano Raraku Quarry Zone.
What's Next?
Ma'u Henua and CONAF as well as other involved island agencies recognize the need to stabilize the moai and protect the fragile stone from damage. Dr. Sarah Sherwood who collaborated on our excavations in Rano Raraku (Sherwood et al 2019), hopes to learn more about the immediate surroundings of the once waterlogged soils environment in which the moai was found.
Other Publication News
A Short History of: Easter Island – produced by Noiser Podcasts
Van Tilburg, J., J Huebert, S. C. Sherwood, and C. R. Barrier
2022 Pre-European Contact Sweet Potato (Ipomea batatas) at Rapa Nui: Macrobotanical Evidence from Recent Excavations in Rano Raraku Quarry, Rapa Nui. In The Prehistory of Rapa Nui (Easter Island): Towards an Integrative Interdisciplinary Framework, edited by V. Rull, and C. M. Stevenson, pp. 85-108. Springer, Cham, Switzerland.
In memoriam
Bill White
September 4, 2022
It is with sadness and regret that we announce the passing of our dear friend and collaborator Bill White. A gifted photographer, videographer, and writer Bill was a joyful and creative companion in the field. He is missed and will be remembered by his friends at the UCLA Rock Art Archive and all who shared great fieldwork experiences with him in the California desert and on Rapa Nui.
Objects have many stories to tell. The stories of their makers and their uses. Stories of exchange, acquisition, display and interpretation. This book is a collection of essays highlighting some of the collections, and their object biographies, that were displayed in the Uncovering Pacific Pasts: Histories of Archaeology in Oceania (UPP) exhibition. The exhibition, which opened on 1 March 2020, sought to bring together both notable and relatively unknown Pacific material culture and archival collections from around the globe, displaying them simultaneously in their home institutions and linked online at www.uncoveringpacificpasts.org. Thirty‑eight collecting institutions participated in UPP, including major collecting institutions in the United Kingdom, continental Europe and the Americas, as well as collecting institutions from across the Pacific.
Uncovering Pacific Pasts is available for free download, including Jo Anne Van Tilburg's chapter, "Intelligent Eyes: Visualising Rapa Nui (Easter Island) Archaeology".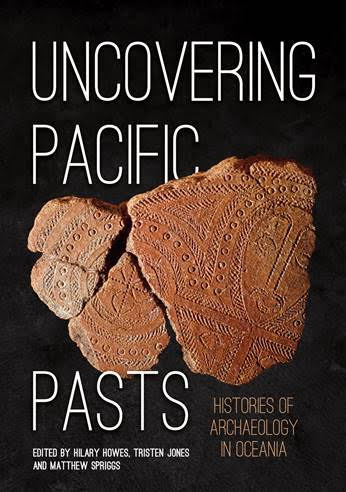 On March 5, 2022, the field of Polynesian studies lost one of its greatest scholars. Dr. Adrienne L. Kaeppler (1935–2022) was an enthusiastic researcher into the history, arts, and aesthetics of island societies, including Rapa Nui. In turn, she earned friendship and respect for her intellect, curiosity, kindness, and generosity. Adrienne was a dear friend, a treasured colleague, and a mentor to all who had the great privilege of knowing her during her long and rewarding career. Adrienne was a born archivist and curator, a woman who believed in preserving the past so that we all might live better in the future. She penned hundreds of books and articles that never lose their appeal because of her straightforward, honest approach to research and her intuitive command of studiously acquired knowledge. Adrienne leaves behind a treasure trove of information, a surfeit of warm memories, and a body of work that will challenge the imagination of all who share her interests for years to come. A tribute to her memory from her friends in Tonga can be found here.
Join women whose achievements in archaeology have changed the face of history as we know it. From Easter Island to Egypt, join us as these extraordinary archaeologists as they tell their stories from far afield.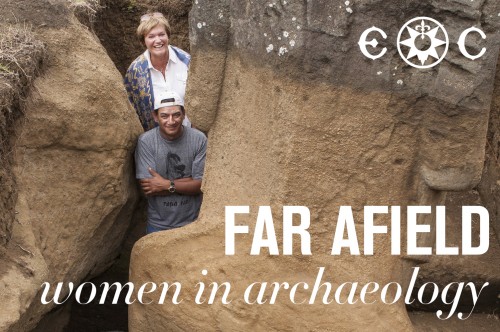 "Far Afield: Women in Archaeology" – streaming live on explorers.org, our YouTube Channel, and our Facebook Live! – Tuesday, July 20 at 7:00 pm ET
Dear Friends of EISP,
This is my first letter of 2021, and I am happy to report that in my home state of California there is light at the end of the pandemic tunnel. I hope you and your families and friends have weathered the pandemic and see good news on the horizon.
The past year has been busy (albeit remotely). We have published several important peer-reviewed articles about our Rano Raraku excavations, and others are in the works. I was pleased to present public programs or lectures to UCLA alumni, the Cotsen Institute of Archaeology, and University of Tennessee audiences. These events offered opportunities to test ideas and concepts we are exploring in our upcoming Atlas publication. UCLA and the Rock Art Archive remain closed to normal scholarly activities, but we are in continued contact with volunteers and international colleagues in the Rock Art Network.
It was such a pleasure to work with Jeff Brown and his PBS team to explore the global issue of climate change for Rapa Nui in 2018. While filming a wide-ranging documentary about our excavations, modern challenges to site conservation, and the arts for the modern Rapa Nui community, Jeff was introduced to pianist and teacher Mahani Teave. Our segment dealt with the question "Can Easter Island's treasures withstand the storms of climate change?" and aired before the pandemic set in. More recently, another of Jeff's PBS Newshour segments focused on Mahani and her blossoming career and was entitled "In bringing the song of Rapa Nui to the world, pianist brings music home."
Tourism is a basic underpinning of the Rapa Nui community, but the island has been closed now for more than a year, and the Rapa Nui landscape remains empty of tour buses. As daily life slowed many families enjoyed the beauty of their tranquil landscape, but damage done over decades by weather and human use to rock art, architecture, and habitation sites also came into sharp focus. On the plus side, we were able to respond helpfully using information in our EISP Archives and Database when conservation colleagues requested our help in researching site protections. My next letter will focus on updates about our forthcoming publication and its progress, as well as provide some information on how you can order copies in advance. Many thanks to all for your continued interest and support!


PBS Newshour Links
Can Easter Island's treasures withstand storms of climate change?, Jun 26, 2018
Tiny Easter Island deals with giant trash problem, Oct 5, 2018
In bringing the Song of Rapa Nui to the world, pianist brings music education home, May 11, 2021
Mahani Teave's Story
The Rapa Nui School of Music and the Arts
UCLA Cotsen Institute of Archaeology Lecture, April 9, 2021
Ritualized Stone and Public Art on Easter Island: Highlights and Insights of Recent Excavations in the Statue Quarry – Jo Anne Van Tilburg. Watch the lecture recording on YouTube.
Published Peer-Reviewed Papers
Mulrooney, M., Van Tilburg, J. A., Hom, A. and McCoy, P. (2021) Refining the Chronology of Rapa Nui (Easter Island) Settlement, Journal of Pacific Archaeology, 12(1), pp. 72-83.
Sherwood, S., J. Van Tilburg, C. R. Barrier, M. Horrocks, R. K. Dunn, J. Huebert, and J. M. Ramírez-Aliaga (2019) New excavations in Easter Island's statue quarry: Soil fertility, site formation and chronology,  Journal of Archaeological Science 111 104994.
Van Tilburg, J., C. Fischer, M. Bahamondez P., and C. Arévalo P. (2016)  Seeking Solutions: An Archaeological Approach to Conservation of a Threatened Heritage on Rapa Nui (Easter Island). In Finding Solutions for Protecting and Sharing Archaeological Heritage Resouces, edited by A.P. Underhill and L.C. Salazar.  Springer Briefs in Archaeology, Chapter 5.
Dear Friends of EISP,
Like so many of you around the world, we here at EISP are sequestered during the global pandemic. The EISP office has been closed for over three months now, and our in-person work at the Rock Art Archive is on hold while all of UCLA shifts to explore the new advantages and pitfalls of distance learning and sharing Yet, again like so many of you, we are still deeply engaged, sometimes busier than ever, and still making great progress as our tightly knit group remains constantly, albeit remotely, in touch with each other. The EISP research team continues to pursue writing, editing, and producing our planned "Atlas of Easter Island." Zoom meetings facilitate conversations with our international colleagues at the Getty Conservation Institute sponsored Rock Art Network (RAN). During our meetings we make important plans but also share stories, including about rock art recording near the Argentina/Chile border during the pandemic, colorful "zoom bombing" events in Australia, and myriad other events in multiple time zones while staring at dear faces on tiny screens. Happily, our friends and colleagues living and working on Rapa Nui are all well and have emerged, for now at least, from sequestration. The Mana Gallery is open but hours of operation are impacted by current events.
Today is a BIG DAY! We here at EISP draw your attention to a special opportunity! Grab a glass of champagne and join us in an exciting new digital film premier! Take a 28-minute virtual and cinematic journey through France's 36,000-year-old Chauvet Painted Cave, one of the world's greatest rock art wonders and a treasure trove of creative human energy. Truly an inspiration for us all at this trying time!
The Final Passage
May 7 to June 7, 2020
The Final Passage Film Director Pascal Magontier and Producer Martin Marquet invited members of the Rock Art Network, a global movement established by The Getty Conservation Institute and the Bradshaw Foundation, to join them in the worldwide online release of this 28-minute film. A journey through France's 36,000-year-old Chauvet Painted Cave, The Final Passage premiered at the 2015 Locarno International Film Festival.
The dedicated website (above) hosting the May 7th digital premiere includes English and French versions of the film, respectively narrated by musical legend Marianne Faithful and actress Anouk Grinberg. The site offers a special essay by former Lascaux curator and renowned archaeologist and author, Jean-Michel Geneste, who led 20 years of archaeological research at the Chauvet-Pont d'Arc Cave. This site is a wonder and this opportunity is not to be missed! See you at the movie!!
https://ioa.ucla.edu/content/rock-art-archive
http://www.bradshawfoundation.com/rockartnetwork/jo_anne_van_tilburg.php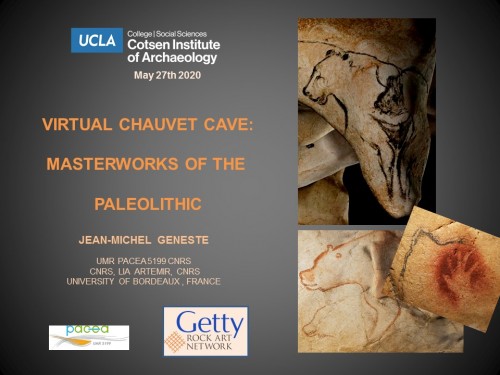 Virtual Chauvet Cave: Masterworks of the Paleolithic
Discussion and Q & A
Wednesday, May 27, 2020, 12:00 – 1:00 PM
Space is limited. Please register by May 25.
Dear Friends of EISP,
Best wishes for health and happiness as we enter a new decade! Thanks to all of you who share our interests and your passions for Rapanui art and archaeology. The past year produced many new accomplishments!  Most importantly, we made solid progress on our Atlas of Easter Island and celebrate our recent publication: "New excavations in Easter Island's statue quarry: Soil fertility, site formation and chronology." S.C. Sherwood, J. Van Tilburg, C. R. Barrier, M. Horrocks, R.K. Dunn, J.M. Ramírez-Aliaga Journal of Archaeological Science 111 (2019) 104994.
Mana Gallery
The Mana Gallery, Rapa Nui recently exhibited "100 Icons." Cristián Arévalo Pakarati, co-owner of the gallery with Jo Anne Van Tilburg, assembled a cadre of talented Rapanui artists to produce and exhibit new carvings.  Many swayed from the gallery beams overhead, just as French artist Pierre Loti saw in 1872 when in the home of a long-ago Rapanui artist. The Rapanui community and friends from the Bowers Museum, Santa Ana, CA attended the opening. Mark your November 2020 calendars and join us when the Mana Gallery celebrates 15 successful years!
Mana Gallery Press
Dr. Adrienne L. Kaeppler, Curator of Oceanic Ethnology, Smithsonian Institution, was awarded the Secretary's Research Prize for the The Iconic Tattooed Man of Easter Island on November 6, 2019.  Co-authored by Jo Anne Van Tilburg, it was published by Mana Gallery Press, 2018. The book was lauded as an example of "interdisciplinary and collaborative research excellence" and the award was based upon the "quality of research, originality, grace and clarity of writing, and usefulness of the research to the scholarly field and society."
Rock Art Network (RAN)
Jo Anne Van Tilburg participated in the Getty Conservation Institute-sponsored RAN colloquium. The fourth in series of important meetings led by Dr. Neville Agnew, the colloquium took place in France and Spain in October 2019, and looked at site and object replication as conservation.
CBS 60 Minutes
The CBS 60 Minutes segment about Rapa Nui, and our interview with Anderson Cooper, has proved interesting enough to the public that it recently warranted rebroadcast.  The conservation and ecological concerns expressed by many in that program remain pressing.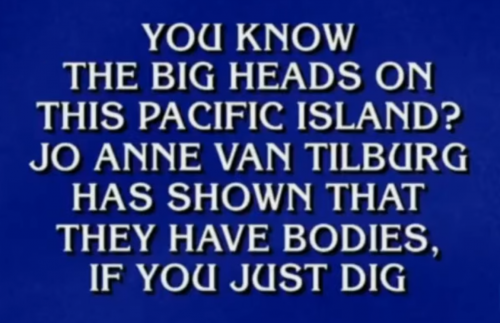 Just for Fun:  Jeopardy!
We know that the scientific excavations and conservation emphasis of EISP has filtered into the public consciousness when we become a question on the endlessly popular Jeopardy!
Dear EISP Friends,
Spring is upon us with the full, sunshine force of California's glorious climate. I thought you might like to know that we are making good progress on the production of our publication project, the "Easter Island Atlas." We are, in a way, victims of our own success…so many of our archaeological colleagues in Rapa Nui research have honored us by sharing their field notes and image files for inclusion in our EISP Datashare project that we are literally "digging out" from under a mountain of data. But the exciting part is that we are finally seeing the more complete picture that frames the monolithic moai achievement. Data on agriculture, excavations, water management, architecture, and much, much more are being filed and then compiled into a comprehensive archaeological taxonomy. I know it sounds daunting but is also very, very interesting!
Just a head's up:
For your viewing pleasure on Easter Sunday, April 21, CBS 60 Minutes will feature a segment I filmed on the island with Anderson Cooper in November. It tells a fascinating story of the many challenges and triumphs of the ancient Rapanui culture. It features our project and its focus on community archaeology.
Kind regards,
Jo Anne Van Tilburg
"Easter Island's famous moai statues slowly fading away", CBS 60 Minutes with Anderson Cooper, April 21, 2019.

Dear Friends of EISP,
This letter brings New Year greetings for a happy and productive 2019!  Thanks to everyone for their support and interest in our research, and especially to our colleagues who have shared so much information now being shaped for inclusion in our major writing project, the "Easter Island Atlas" due to be completed (fingers crossed!) by the end of this year.
The past year ended with the great event of the Early Pacific Migration and Navigation Conference. Held at Hanga Roa, Rapa Nui and organized by archaeologist Sonia Haoa and her Mata Ki Te Rangi Rapa Nui Foundation team, the conference offered a wonderful series of interesting papers and great social events. EISP sponsored the attendance of four members of our team, and we delivered four interrelated papers. We were joined by good friends and supporters from UCLA, and we all reveled in the warm hospitality of the Rapanui community.
At the Mana Gallery we launched Mana Press with a great party for the attendees! Our new series of "small books" is edited with Adrienne L. Kaepper. The first is entitled "The Iconic Tattooed Man of Easter Island." The second will be out later this year and will focus on Rapanui music. We also presented the Spanish translation of my "Among Stone Giants" by José Miguel Ramírez and published by Rapa Nui Press.
I am very pleased and proud to say that, during the opening reception, I was one of three recipients of an award presented by Sonia Haoa and given for "humanitarian values" and respect shown the "traditions and values of the past" through archaeological research.
All in all, a wonderful year.
Kind regards,
Jo Anne Van Tilburg
Dear EISP Friends,
Our attention is still fixed firmly on the preparation of our Atlas manuscript. We have engaged with colleagues, exchanged data with collaborators, and traced down myriads of new ideas, all of which were stimulating and enlightening scholarly adventures. In May we traveled to Rapa Nui with Jeff Brown and the amazing crew of the PBS NewsHour "Cultures At Risk"! We met new friends in the Rapanui community who are devoted to conservation in the face of new climate change threats.
Rano Raraku Lake Water Depletion
During our excavation program we collaborated with geologist R. Dunn (2013). He mapped the inner basin of Rano Raraku and cored a portion of the slope. We also assisted S. Wachsmann and J. Morris of Texas A&M University's Nautical Archaeology Program and the Institute of Nautical Archaeology (INA) to conduct a sub-bottom profiler survey of the Rano Raraku lake (Wachsmann and Morris, 2012). Rano Raraku is an important fresh water source on an island where drought is a major concern. So, when the Rano Raraku lake level recently appeared to fall dramatically, we turned to these colleagues. Read their reports here:
Dunn pointed out that Rano Raraku stone (tuff) contains abundant fractures that act as conduits for groundwater. Precipitation enters these fractures and groundwater flow delivers water to the lake. It sits 30-40 m above the surrounding land surface and approximately 65 m above the regional groundwater table. The lake level has fluctuated in the past, and Juan Tepano told Katherine Routledge that, when he was a young boy, the lake was just a marsh. In general, seepage out of the lake has balanced the in-flow of precipitation-derived water.
In July 2017, the lake level appeared to be normal (Figure 1), but by September there was a noticeable decrease. On January 25, 2018 the surface of the water displayed an unusual pattern (Figure 2). The reason for the rapid reduction in lake level that subsequently took place (Figure 3) is unknown, but one possibility is increased lake drainage through bedrock fractures. By our May visit the water level was up again. Chilean scientific consultants opined that the cause of the original water loss was low precipitation and evaporation (Figure 4).
According to Dunn, a possible aggravating cause is regional seismic activity. We are all aware of the restless volcanic activity of Mauna Kea in Hawai'i. It is also noteworthy that seismic activity is recorded on the East Pacific Rise, 350 km west of Rano Raraku, as recently as February 27, 2018 (Mag 4.7, 10 km depth; USGS). The result of this situation for Rapa Nui is a renewed awareness of the potential threats of climate change. In November an international scientific conference will discuss the pressing issues facing the island today, one of which may be variable rainfall and drought.
Dear Friends of EISP,
This letter brings you special greetings for the coming year from all of us at EISP. Since our last Letter from the Director we have been on hiatus from excavation and hard at work doing all of the other important tasks you so rarely hear about but which are essential to good research: lab work, radiocarbon analyses, museum studies, and writing reports!
This has been an intense period of cooperative research with gifted colleagues, and we are grateful for their involvement. Beginning in early 2015 José Miguel Ramírez, co-investigator of EISP, arranged for Chilean scholar Pauline Peralta to examine our obsidian collections. Through Joan Wozniak we met Jon Krier, who studied our basalt collections. My UCLA colleague Tom Wake  reviewed our bone collections.
Cristián Arévalo Pakarati accomplished detail drawings of important artifacts, and then he and I traveled to Tahiti, Australia, and New Zealand to examine objects of comparative research interest. I reviewed Bishop Museum collections in Honolulu. Radiocarbon determinations on our charcoal samples were accomplished.  Other botanical analyses were carried out successfully with very interesting results. We are now collating these findings in collaboration with soils micromorphologist Sarah Sherwood and geologist Richad K. Dunn.
Alice Hom and the EISP staff keep us on track with all of these data and Alice is hard at work completing our cartographic projects. She has collaborated closely with Pat McCoy on entering his 1968 archaeological survey data into Datashare. We are on deadline with our upcoming publication and looking forward to launching it in 2018!
So, as you can see, we have not been sipping Margaritas on the beach at Anakena… oh, wait… actually, in March, 2016 we had the pleasure of sharing our project with Jimmy Buffet and his party!  We are grateful to  the Singing for Change Foundation, our UCLA supporters and, especially, to all of you.
Happy New Year!
Jo Anne Van Tilburg
Dear Friends of EISP,
Among the many wonderful insights we have gained during our excavations in Rano Raraku Zone, Interior Quarry Region this new head is the most exciting!  Measuring 69cm tall, it is located in Square 6 at a depth of 420cm.  When we discovered it the head was standing upright, propped in place with stones, close to the right side of
the moai (RR-001-156). The moai, in turn, is unfinished and standing in a basin cut with great skill and care into the bedrock. There was no intention of moving this moai out of the quarry.
The rounded form of the head and its incised, almond-shaped eye is more in keeping with petroglyph styles that with the elongated, rectilinear style of the moai.  However, and as the new 3D imagery created by EISP team member Greg Downing of xRES Studio clearly shows, the head style is also very similar to that of Tukuturi (RR-002-030), the famous kneeling statue uncovered by the Norwegian Archaeological Expedition, 1954-55. This incredible new find means that we will now have to reconsider our ideas of moai style.
Other finds during our 2014 seasons include a large shaped block of coral, an obsidian eye of a small carving, more pigments, basalt and obsidian tools, and a bone fishhook. To date, we have also recovered more than 6,000 stone tools (toki)!  The analysis of this incredible amount of material is a huge undertaking, and we are hard at work with colleagues on laboratory studies of obsidian, basalt, wood, and carbon.  We'll keep you informed as we make, quite literally, new headway!
Jo Anne Van Tilburg
Dear Friends of EISP,
We have had another wonderful, but really wet, field season during the month of August.  The nearly constant rains were a big challenge. However, they also gave us more time than usual in our field lab, which was good.  Our excavation goal was to expose the front of RR-001-156 to what we presumed was the level of a fire set nearby in 1920.  We are certain of the date because of a photo we were asked to identify (slide, collection, Douglas Stewart Fine Books Pty. Ltd.). We also found the large fire scar in the soil.
Which expedition set the fire? We came up with some possible culprits, but we're not certain. Their goal was apparently to take photos depicting the "mystery" of Easter Island.  It might have been an American, Australian, or Chilean group.  We need help sleuthing this out. Have a look at the mystery photo on the web site above, and if any of you have a clue about which expedition might have taken  this photo and would like to share it, we'd be grateful! Drop us a note at mail@eisp.org.
Our major excavation goal this season was to document the rock art (petroglyphs) on the statue's torso. We accomplished our goal, but it was rough going. We found dozens of what by now are very familiar stone tools (toki). We have well over 1,000 toki now under study.
Screening the heavy, wet dirt that came out of the excavation demanded more than the usual amount of patience, and our Rapanui team members deserve a big mahruru for their efforts!  We were also rewarded for our slogging by some really exciting finds!  The field report we've just posted here for the season includes a photo of one of the most interesting objects: a fishhook made of bone.
During our field season we were visited by a film crew from the Australian Broadcasting Corporation. The terrific program that resulted can be seen here.
Our work will continue in November and then again in March, 2014. Thanks for your interest in EISP!
Jo Anne Van Tilburg
Dear Friends of EISP,
I am writing you today from Rapa Nui, where we are embarking on the last phase of our excavations in Quarry 02 of the interior slope.  For those of you who have been following us, we are now turning our attention to the front of the statue known as "Papa" (RR-001-156). We have, to date, excavated  both statues to their bases on their dorsal sides, and documented features dealing with the ceremonial uses of the statues (pigments), transport (base features, including a large post hole used for elevating the statues), and a small boulder with an incised petroglyph in a motif similar to those on the backs of the statues. We now know for sure that the "heads" on the slope here are, in fact, full but incomplete statues.
Other work includes geological mapping (by Dr. Richard Dunn) of the interior and surveying of the lake bottom (Dr. Shelley Wachsmann and Jeffrey Morris).
Stay with us, and we will fill you in upon my return!
Cheers,
Jo Anne Van Tilburg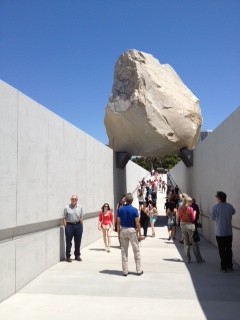 Dear Friends of EISP,
As director of the UCLA Rock Art Archive, I have had the privilege of studying the seminal research of renowned California archaeologist Robert F. Heizer.  He spent much of his professional life researching prehistoric art, known as rock art.  His son, the famous artist Michael Heizer, grew up exploring his father's excavations throughout California. Michael Heizer's masterwork, entitled "Levitated Mass," is a massive granite boulder weighing 340 tons.  Installed at the Los Angeles County Museum of Art, "Levitated Mass" is a profoundly literal interpretation of "rock art."  Transported from a distant desert quarry, the boulder was moved along a 105 mile route with minimal environmental impact and accompanied by a cacophony of Internet  tweets. The space shuttle Endeavor, in contrast, recently traversed the city in a challenging 12 mile journey that Los Angeles Times architecture critic Christopher Hawthorne likened to an ancient ceremonial procession. Both events involved advanced industrial technology, enormous resources, careful and farsighted planning, large numbers of participants and crowds of observers, and were motivated by the goals of history, private passion, and public education.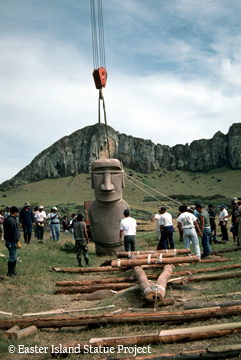 Robert Heizer and I share another interest: the pre-industrial transport of large and heavy objects in megalithic cultures around the world.  He speculated about ancient methods of moving Olmec heads as well as Mayan stone blocks and Egyptian monoliths.  My interest, of course, is Easter Island (Rapa Nui) and the ancient engineering skills and tools needed to transport the stone statues (moai) from the quarry where they were carved to the ceremonial sites upon which they were raised. Eight different experiments to move moai in horizontal (prone or supine) or vertical (upright) positions have been reported over the years, and others have been tried. Beginning in about 1990, I researched probable transport methods based upon known Polynesian techniques and skills, and in 1998 we conducted a successful experiment using a full-scale concrete replica on Rapa Nui.  Filmed by PBS Nova, it was an exciting learning experience that drew upon our extensive knowledge and participation in the island-wide archaeological survey.  Our experiment demonstrated the viability of our  method.
A recent attempt to, once again, "walk" a scaled down statue model was depicted by PBS Nova. Did it work? Apparently it did, as others have, at least to a certain extent.  Are any of the upright methods actually viable  on the  Rapa Nui terrain? Not very likely.  In the meantime, recent photos of our excavations caused a world-wide stir when more than 40 MILLION VISITORS  to  this web site discovered that "Easter island heads have bodies!!"
Rano Raraku quarry (Figure 1), within which 95% of the over 1,000 Easter Island stone statues was carved, is a massive crater of consolidated volcanic ash surrounding an interior, reed-filled lake (Figure 2).  About half of the total number of statues recorded to date is still within the quarry zone.
Some 150 statues stand upright on the interior and exterior slopes of Rano Raraku.  They are buried to varying depths and appear often as heads only.  While weathered and worn by centuries of exposure to the elements, many of them are still very beautiful (Figure 3).
Rano Raraku was first reported to the outside world in 1868 by officers of HMS Topaze. The world was fascinated, and many sketches, essays, newspaper articles, and books were published describing the statues embedded in the slopes as "heads."  Over 90 excavations in Rano Raraku since that time exposed the torsos of many statues. Katherine and William Scoresby Routledge of the Mana Expedition to Easter Island, 1914-15 published photos of their own digs illustrating the bodies of many statues.  In 1954-55 Thor Heyerdahl and his Norwegian Archaeological Expedition to Easter Island excavated others, further documenting the existence of complete, but partially buried, statues.
Our EISP excavations recently exposed the torsos of two 7 m tall statues (Figure 4).  Hundreds, perhaps thousands, of visitors to the island have been astonished to see that, indeed, Easter Island statues have bodies! More important, however, we discovered a great deal about the Rapa Nui techniques of ancient engineering:
the dirt and detritus partially burying the statues was washed down from above and not deliberately placed there to bury, protect, or support the statues
the statues were erected in place and stand on stone pavements.
post holes were cut into bedrock to support upright tree trunks
rope guides were cut into bedrock around the post holes
posts, ropes, stones, and different types of stone tools were all used to carve and raise the statues upright
We also discovered that ceremonies were certainly associated with the statues. We found large quantities of red pigment, some of which may have been used to paint the statues. Finally, and perhaps most poignantly, we found in the pavement under one statue a single stone carved with a crescent symbol said to represent a canoe, or vaka (Figure 5). The backs of both statues are covered with petroglyphs, many of which are also vaka. A direct connection between the vaka symbol and the identity of the artist or group owning the statue is strongly suggested.
Want to know more?  Read our excavation reports for Seasons I, II, III, IV and V.
Dear Friends of EISP,
Our Excavation Season V, which began on October 29, 2011, opened with our presentation to Governor Carman Cardinali of our two-volume report on Excavation Season IV. She noted that the Rapa Nui community, especially high school teachers and students, is very enthusiastic and interested in our work.  This field season will continue as we carry out further excavation of statue (moai) RR-001-156 in Quarry Two, Rano Raraku. Reports of all work to date are available to the interested reader in the EISP Archives as Excavation Season I, Season II, and Season III or as Conservation Season I and Conservation Season II.
Before we began our excavation we visited the basalt quarries and outcrops sampled by our colleague Dr. Christian Fischer as part of our XRF analysis project.  We have collected XRF data on over 40 sites. That information will be used byRapa Nui student Rafael Rapu in his comparative study of tools (toki) retrieved in our excavations.
Also in May of 2011, Chris Fischer and Mónica Bahamondez, director of the Centro Nacional de Conservación y Restauración (CNCR), treated the excavated portions of both statues with water repellant. On drizzly days or days with intermittent rain we were amazed to see how well the repellant did its job!  Droplets quickly beaded up and didn't penetrate the surfaces of either statue. We noted that the stone surfaces usually dried within a maximum of ten minutes. We are also now engaged in a plan to share our extensive on-site environmental data with colleagues modeling the island's ecology.
Our continued excavation of RR-001-156 revealed more about the ritual concerns of those who frequented Rano Raraku interior quarry over about 500 years.  We collected further evidence of red pigment (kie'a), an indispensable part of Rapa Nui ritual life and today a valuable part of personal display during performance art.
Interestingly, Rapa Nui oral traditions say that statue carvers were paid for their talent and effort in desirable food, including especially tuna and lobster. At the deepest level of our excavation this season we found tuna vertebrae!  Also, we found strong evidence of how the ancient carvers manipulated the statue to raise it upright, pivot it and drop it in a hole 1 m deep cut in bedrock.  The process left scars and indents on the statue surface.  When seen on statues lying on roads, these same sorts of scars have been interpreted by others as evidence of upright transport methods. Our excavation, however, clearly shows that such damage could have been caused in the quarry. The unpublished notes of the Mana Expedition to Easter Island (1914-15) suggested and support these findings in Quarry 2 and elsewhere in Rano Raraku.
Both of our excavated statues, as you know from our previous letters, are intriguing because they are nearly unique on Easter Island.  While many statues have individual petroglyphs, these and only one other statue—of over 1,000 we have documented—have  multiple petroglyphs carved as a composition on their backs.  Underlying these carvings is a complex symbol found on less than 100 statues. It is referred to by previous researchers as the "ring and girdle" design, and sometimes said to represent the "sun and rainbow."  However, statue RR-001-156 and some others have two "rings" above the crescent "girdle." We have long interpreted this form as the Rapa Nui version of the Polynesian maro or loincloth (maro is also a unit of measurement).  As we  noted long ago on a statue torso (007) at Ahu Oroi (12-460), the upright "Y" or "M" element below the maro on both of our excavated statues represents  two hafted adzes.  This depiction, which may be interpreted as evidence of craft specialization in the form of an emblem, is not consistent, however, and in some cases outside of the quarry it appears to depict other objects. Cristián Arévalo Pakarati, co-director of EISP, has spent hundreds of hours on site over the past months painstakingly measuring and drawing these designs as he supervises the  site during our seasonal hiatus from on-going excavations.
We hope you continue to follow our progress over the next few years on this web site.  Although we are partially funded by a generous grant from the Archaeological Institute of America, we need your help.  Please join Friends of EISP.  Through that association you will meet and learn from a growing group of informed and caring people. Click on support to become a member of our team as we work to conserve the stone giants of Rapa Nui. 
We have just returned from Excavation Season IV and statue (moai) RR-001-156 in Quarry Two, Rano Raraku, Rapa Nui (Easter Island)!  The reports of previous field seasons are filed in the EISP Archives as Excavation Season I, Season II, and Season III or Conservation Season I and Conservation Season II.
Our three main goals for statue (moai) RR-001-157 were to audit our drawings of very complex stratigraphic profiles, augment our existing photo-documentation as follow-up to Conservation Season II, and then to backfill the statue.  We accomplished all of these goals.
In May, 2011, our colleagues Chris Fischer and Monica Bahamondez treated  both statues with water repellant. On drizzly days or days with intermittent rain we were amazed to see how well the repellant did its job!  Droplets quickly beaded up and didn't penetrate the surfaces of either statue. We noted that the stone surfaces usually dried within a maximum of ten minutes. These are subjective observations, of course. We await the detailed analysis by Chris and Monica of the extensive on-site environmental and stone condition data being downloaded bi-weekly by Tahira Edmunds.
Our continued excavation of RR-001-156 revealed more about the artisans, image-carvers, and ritual concerns of those who frequented Rano Raraku interior quarry over a long period of time.  We uncovered an egg-shaped mass of concentrated, intensely pure red pigment (kie'a) tucked away under an overhang of bedrock (papa) carved with petroglyphs. Red pigment was an indispensable part of Rapa Nui ritual life, and remains today a valuable part of personal display during performance art.  Along with the "signature stone" we uncovered earlier during excavation of RR-001-157, this find gives us a tantalizing glimpse into the past.
Both statues, as you know from our previous letters, are intriguing because they are nearly unique on Easter Island.  They and only one other statue—of over 1,000 we have documented—have complex petroglyphs carved on their backs, faces, and arms.  The carvings are often variants of a narrow range of elements and are arrayed in very interesting compositions.  Most are well within the norm of Rapa Nui iconography, but some are very unusual.  Many are crescent designs referred to as vaka (canoe), but they may be rei miro (gorget). Cristián Arévalo Pakarati, co-director of EISP, has spent hundreds of hours on site over the past months painstakingly measuring and drawing the elements.  In January of 2012 the UCLA Rock Art Archive will host a Rapa Nui student who will use Cristián's drawings and our EISP rock art database to initiate a comparative study.
We hope you continue to follow our progress over the next few years on this web site.  Although we are partially funded by a generous grant from the Archaeological Institute of America (AIA; www.archaeological.org) , we need your help.  Please join Friends of EISP.  Click on support to become a member of our team as we work to conserve the stone giants of Rapa Nui.
Dear Friends of EISP,
We have just returned from our third season of excavation in Rano Raraku Quarry!  Our attention was directed throughout this field season on RR-001-156, the companion statue in Quarry 2 to previously excavated RR-001-157. Both statues, as you know from our previous letters, were excavated by the Mana Expedition to Easter Island (and other groups), although none of these digs ever reached the bases of the statues and  results were never published.
This season was especially interesting in that we were joined by five remarkable young students of archaeology and conservation at the Universidad Internacional SEK in Santiago.
Enthusiastic and skilled, with wide backgrounds in survey and excavation, the students are thrilled to participate in the first authorized excavations in Rano Raraku since Thor Heyerdahl and his Norwegian Archaeological Expedition of 1954-55.  Each of the students experienced a varied range of activities, including fine-grained excavation and removal of fragile bone and carbon, archival-safe storage of materials, and log book and catalog entry.  Informal lectures and other learning activities allowed us to share previous experiences and insight, and there were many opportunities to interact with tourists and other professional visitors. Several thesis project opportunities are embedded in our research, and one of the students has already embarked upon a follow-up study of the many dozens of stone tools we have collected.
Dr. Christian Fischer, in cooperation with Monica Bahamondez P.,  reinstalled our environmental monitoring equipment in order to transmit conservation data to DATASHARE.  Micheline Pelletier took valuable photos of our excavation using an unmanned aerial vehicle (UAV). We will return to our Season IV excavation of RR-001-156 in July.
Read our preliminary report of Season III and Dr. Fischer's conservation report. You are invited to follow our progress over the next few years on this web site.  Although we are partially funded by a generous grant from the Archaeological Institute of America, we need your help.  Please join Friends of EISP.  Click on support to become a member of our team as we work to conserve the stone giants of Rapa Nui.
Dear Friends of EISP,
We have just returned from a great adventure: our second season of excavation in Rano Raraku Quarry!  Our team is the first to conduct authorized excavations in Rano Raraku since Thor Heyerdahl and his Norwegian Archaeological Expedition, 1954-55.  Through the generous support of the Archaeological Institute of America (AIA; www.archaeological.org), we will collect surface and sub-surface stone condition data and monitor environmental conditions vital to statue conservation.
In 1914-15 the Mana Expedition, co-led by Katherine Pease Routledge and her husband, William Scoresby Routledge, "dug" both of the statues we are now excavating.  Unfortunately, they did not adequately document and publish their information.  A Rapanui man named "Langitopa" worked with Katherine Routledge. Langitopa told Routledge that the shorter statue (RR-001-156) was named "Papa" and the other, taller statue (RR-001-157) was "Papa's Wife."  These names, given in jest, reflect a wry opinion of the Routledges. Darío Icka, on our excavation team, is a direct descendant of Langitopa.
Katherine Routledge's field notes led us to believe that she had reached the base of Moai RR-001-157 and that it was 5.70 m tall.  She was wrong.  We discovered that the statue was over 8 m tall and erected upright on a stone pavement about 1 m below the bedrock (papa)!
Our most important, poignant discovery, however, was under the statue: a basalt stone with a beautifully etched vaka on it!  Did we discover, in fact, the "signature" of the proud master carver who created this magnificent moai?  Or the identity of the group that commissioned it?  Design similarity between the carved stone and the crescent-shaped petroglyphs on the statue's back—both above and below ground—is provocative evidence of continuity in social identity over time.
Read our preliminary report for a more complete picture and view the interesting objects encountered. Our excavation will continue in March, and you are invited to follow our progress on this web site.  We need your help.  Click on support and join us in this important work.
Dear Friends of EISP,
In March and April of 2010, our EISP team began the first authorized excavations in Rano Raraku Quarry interior since Thor Heyerdahl's Norwegian Archaeological Expedition in 1954-55. Two statues said by Katherine Routledge of the Mana Expedition to Easter Island, 1914-15 to be called "Papa" and "Papa's Wife" were selected due to their archaeological and iconographic importance and their ethnographic history. Like the famous statue Hoa Hakananai'a now in the British Museum, "Papa" and "Papa's Wife" have complex and enigmatic carvings on their backs. Our excavations will reveal these designs and  promise new information vital to understanding ancient Rapa Nui religious belief and statue use.
At the 50 cm level, Christian Fischer of UCLA and Monica Bahamondez P. of Chile's Centro de Conservación y Restauración installed non-contact, microclimatic radiometric sensors near the statues to collect data on soil moisture and stone temperature. Protection treatments will follow detailed analysis of the environmental data. Partially funded by the Archaeological Institute of America Site Preservation Initiative and with support from the Mana Foundation, we need your help.  Please visit our Support link to find out how you can join us in this major new step towards understanding and protecting the unique environmental, aesthetic and historic value of Rano Raraku.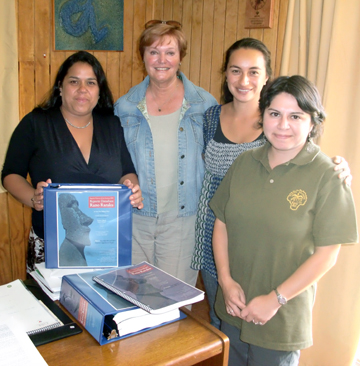 Dear Friends of EISP,
As 2009 draws to a close it is  a pleasure to post our second letter from the director.  As most of our visitors know, the Easter Island Statue Project (EISP) is an original archaeological field survey established  in 1982 to document the monolithic statues (moai).  The objective of EISP is original scientific research and publication.  Our academic bibliography is extensive but, as the scope of our work grew, so did our collected data. In 1999, we began intensive push to digitize our records.  In 2001, our innovative, localized, and visualized topographic and archaeological map of Rano Raraku statue quarry became the organizing and presentation tool for our database. Our project has steadily expanded to include External Collections and an extensive file of ethnographica and original artwork by EISP co-Director Cristián Arévalo Pakarati and other Rapa Nui artists.  Our sister project is the non-profit Mana Gallery, which celebrated a gala, island-style opening in November.  The gallery hosts our EISP field office and exhibits and supports our associated artists.  Please visit  in person or at www.managallery.org
DATASHARE is our newest venture.  It will provide access to associated researchers, conservators and others working to preserve the fragile and irreplaceable patrimony of Rapa Nui.   DATASHARE is part of Phase 1 of the Easter Island Statue Conservation Initiative, generously funded by a grant from the Site Preservation Task Force of the Archaeological Institute of America.  According to Larry Coben, co-chair of the Task Force, EISP exemplifies "the model of preservation the AIA seeks to promote."  Phase 1 is opening the EISP database to CONAF Oficina Isla de Pascua and our collaborators,  including Mónica Bahamondez P. of the Departamento Nacional de Conservación y Restauración (DNCR) and Christian Fischer of UCLA.  Phase 2 will incorporate the Consejo Monumentos Nacionales Isla de Pascua  and the Municipalidad Isla de Pascua.   DATASHARE will provide a permanent, accessible home for EISP data, advance the preservation of Rapa Nui patrimony, and permit informed conservation managment.
The coming year promises new and exciting adventures, and we are looking forward to the beginning in March of the first of three planned field seasons and the on-going preparation of our Rano Raraku Atlas.
Dear Friends and Colleagues,
We are pleased that you have taken the time to join us, and to share in our archaeological exploration on Easter Island (Rapa Nui).
EISP practices Sustainable Archaeology through
Field Data Collection
Reporting and Publishing
Data Sharing
Entrepreneurial Innovation
Our survey is a systematic mapping and descriptive study of all of the monolithic stone statues (moai) on the island and in museums and collections world-wide. We have created the world's largest and most complete archive of maps, photographs, drawings, measurements and other data on over 1000 statues.
We share our data with the supervising authorities in Chile and on Rapa Nui.  Our research thoughts on the comparative analyses of our data are widely published. We participate in public programs and media presentations for the public. As you read this, our massive database is being transferred into a new, web-based data filing and sharing system that will allow access to all of our collaborators and colleagues world-wide, as well as to the Rapa Nui people and the interested public.
We have established our own Mana Gallery on the island. It houses our field office and art gallery in which Rapa Nui artists show their work. They also use our data to innovate on the ancient aesthetics of their gifted ancestors. In this way, we enrich and expand our research. If you are fortunate enough to visit the island, please stop by the gallery.
We are proud and grateful to announce the latest honor accorded our project. We have received a major field work and preservation grant from the Archaeological Institute of America.  We hope you will join us often to follow our progress in the field.